[ Blue. ]
The Original Color of Sin. 
Robert Johnson
"My Friend Sin"
Bernard Fowler The Bura (2019)
((( LISTEN )))

— 5-cent (photo booth) portrait
Robert Johnson — That so few photographs of Robert Johnson exist has always added to the mystery and lore surrounding the original bluesman who made a Deal With The Devil.
1936 — When Robert Johnson came to the Crossroads, he chose the darker path, taking the road that led him deep into the Mississippi Delta, and eventually, Straight To Hell.
Cross Road Blues
Robert Johnson
((( LISTEN )))

1986 — Crossroads (movie)
1986 — Crossroads is a film that offers a 1980s interpretation of the blues music legend, Robert Johnson, and his  and his the original bluesman, making his legendary Deal With The Devil. Steve Vai appears as the devil's virtuoso in the climactic guitar duel with Ralph Macchio, the movie's lead character, guitar played by Ry Cooder. Other cast members include Joe Seneca and Jami Gertz.
Me And The Devil Blues
1936 — Robert Johnson
((( LISTEN )))
—.!
Woke Up Cryin'"
Adam Falcon (Demo) 2014
((( LISTEN )))
—.!
August 14, 1988 — After a being arrested for public intoxication after a domestic dispute, Roy Buchanan was found hanging from his own shirt in a Fairfax, Virginia jail cell.
Black Is The Night
Making The Most Of Dying Young
When the creators of The 27 Club noticed that Robert Johnson was 27 years old when he died, the same as Jimi Hendrix, Janis Joplin, and Jim Morrison, they made the legendary bluesman the Club's honorary inaugural member.
1969 — Midnight (July 2/3), when Original Rolling Stone, Brian Jones (27), was found at the bottom of the swimming pool at his countryside English estate, the British coroner called it Death by Misadventure, meaning it was an accident, but no surprise after years of drug and alcohol abuse. In other, more colloquial, words, he got fucked up, and passed out in the pool.
Within the next two years, three others of Rock N Roll's royalty died at 27. 
Jimi Hendrix — "Voodoo Child"
Janis Joplin — "Summertime"
Jim Morrison — "This Is The End"
1994 — Two decades later, Kurt Cobain was 27 years old when he shot himself in the face with a 12-guage shotgun, adding his iconic name to Club 27's list.
A suicide isn't necessarily a "misadventure," but the 27-year coincidence had inspired the 27 Club's, creation, and it couldn't be ignored. 
Cobain's timely death contributed much to the mystery, superstition, and lore that surrounds the always turning World Of Music.
Bernard Fowler
Sympathy For The Devil
Inside Out (2021)
((( LISTEN )))

originalnoise.org
Fame
For the Love of Bowie
Celebrating David Bowie World Tour (2017)
Bernard Fowler w/
Mike Garson (piano) — Fingers taped, didn't take the backstage picture …
Earl Slick (guitar) — "Hi, I'm Slick," emerging from back of the bus bunk. "Damn, do I feel old." Same thing (exactly) that Bernard said. Corey grabbing laundry from bus cargo, going to use the washer and dryer at the Ponte Vedra venue.
"The glamorous life of a Rock N Roll star."
Bring your kids to work day — Daughter and boyfriend backup singer and drummer) Jimi Hendrix Woodstock percussionist Slick's 9-year-old son in from Gainesville where he lives with mom. Teaching to iron backstage (Life On The Road).
The Rolling Stones
Sympathy for the Devil, and a Lifelong Love of the Blues.
Mick Jagger's Eye For Talent
The Wonderful World of Living Colour
1985 — She's the Boss (Mick Jagger)
1987 — Primitive Cool (Mick Jagger)
1989 — Steel Wheels (Rolling Stones)
Vice (Miami)"
1984  — Melle Mel
w/The Original Sugar Hill Rhythm Section
((( LISTEN )))
— yZ.
Kick Ass Rock N Roll
at The Orange Bowl
Little Havana (Miami, Florida)
Nov.16, 1989 — Parked on the street in Little Havana. Two second row tickets for the Rolling Stones in the Orange Bowl, where the Miami Dolphins and the University of Miami Hurricanes play. Meet at the inflated "Bud" can. Passed out under the Visa banner. $300 Leather Jackets, rather than T-Shirts. Coffee-table, hard-cover, photography books, rather than a paper poster or ad-filled program. Entering the stadium, and looking down toward the mammoth stage in the opposite end zone, we saw Living Colour in the middle of "Cult of Personality," the last tune in their set. Chuck Leavell, wish it was Pink Floyd, the Rolling Stones, Yes, but it was Chuck taking a solo in …
"That's Alice to You." — Alicia, the young woman at Enriqueta's coffee window. Little Haiti (36th Street and 2nd Avenue) in Miami. New Times just moved from downtown 35 blocks north on Biscayne.
Little Haiti — INFANT, HEROIN, GROCERY CART, ALLEY LIVING. From downtown … Bayfront Park, Freedom Tower, I-95 entanglement, 5th Street Causeway, Sears Building, Miami Herald, Arscht (Hamilton/Al Di Meola/Lee Ritenour) Bacardi Tile, (Will Calhoun with Robert Redford. Miami Beach Fashion. Boutique. Gay guy, SOBE babe, $50,000, heavy black beads, Tiny (short) dress. Soundscape Park, Underground.
Design District / Lincoln Road / Miami Light Project
— Miami, Florida.
Bernard Fowler w/The Rolling Stones
1991 — Flashpoint (Rolling Stones)
1992 — Tribute to Charlie Parker with Strings (Charlie Watts)
1992 — Slide on This (Ronnie Wood)
1992 — Main Offender (Keith Richards)
1993 — Wandering Spirit (Mick Jagger)
1993 — Warm and Tender (Charlie Watts)
1993 — Slide on Live: Plugged in and Standing (Ronnie Wood)
1993 — Jump Back (Rolling Stones)
1994 — Voodoo Lounge (Rolling Stones)
1995 — Stripped (Rolling Stones)
1996 — Long Ago and Far Away (Charlie Watts)
1997 — Bridges to Babylon (Rolling Stones)
1998 — No Security (Rolling Stones)
2000 — Live and Eclectic (Ronnie Wood)
2002 — Forty Licks (Rolling Stones)
2004 — Live Licks (Rolling Stones)
2004 — Tack>>Head
BACK IN THE U.S.A.
Bernard Fowler (vocals)
Doug Wimbish (bass guitar)
Skip McDonald (guitar)
Keith Leblanc (drums)
Adrian Sherwood (mix)
Asylum Street Rehearsals
@ Sully's Pub & Tiki Bar (Hartford, Connecticut)
2005 — A Bigger Bang (Rolling Stones)
2005 — Rarities 1971–2003 (Rolling Stones)
2008 — Shine a Light (Rolling Stones)
2009 — Tack>>Head
NEW YORK TIME
Friends With Privileges
@ The Highline Ballroom (NYC)
Keith Fluitt
Argentina Guitar
2010 — I Feel Like Playing (Ronnie Wood)
2012 — Light the Fuse (Rolling Stones) (a digital download through Google Music)
2012 — GRRR! (Rolling Stones) compilation album
2013 — Hyde Park Live (Rolling Stones)
2015 — From the Vault – Live at the Tokyo Dome (Rolling Stones)
2015 — Sticky Fingers Live (Rolling Stones)
2015 — Hyde Park Live (Rolling Stones)
2015 — Crosseyed Heart (Keith Richards)
2016 — Totally Stripped (Rolling Stones)
2016 — Havana Moon (Rolling Stones)
2017 — Sticky Fingers – Live At The Fonda Theatre 2015 (Rolling Stones)
2018 — San Jose '99 (Rolling Stones)
2018 — Voodoo Lounge Uncut (Rolling Stones)
2019 — Bridges to Bremen (Rolling Stones)
2019 — HONK (Rolling Stones) compilation album incl. live CD (Lim. ed.)
2019 — Bridges to Buenos Aires (Rolling Stones)
2020 — Steel Wheels Live (Rolling Stones)
2021 — A Bigger Bang Live (10″ Vinyl, 2 track, RSD 2021)
2021 — A Bigger Bang: Live on Copacabana Beach (Rolling Stones)
Ladell McLin
I Am King
Stand Out
((( LISTEN )))
— Checkerboard Lounge
((( video )))
The Devil's Wife
Fort Lauderdale, Florida Live at Alligator Alley
Ladell McLin played in the Checkerboard Lounge House Band, toured with KoKo Taylor, Chi-Lite uncle. French documentary Back To Mississippi, Chicago to New Orleans.
Adam Falcon
Like A Soldier
Bohemian 959
((( LISTEN )))
— ?
((( video )))
Woke Up Crying
Suffern, New York
Woke Up Cryin'
b/ Adam Falcon
((( LISTEN )))
The Mississippi Delta. Where The Blues Was Born.
Before, during, and after the time of Robert Johnson, Blues music has had a connection to Mississippi, and the Delta were the first seeds were planted.
— joe mazzola
Son House
Charley (Charlie) Patton
Muddy Waters
Willie Dixon — With Muddy Waters, one of the two most influential artists in shaping the sound of Post WWII Chicago Blues.
Went Down To The Crossroads
1975 — Eric Clapton EC Was Here
((( LISTEN )))
Wayward Son 
Robert Johnson — DECADES AFTER HIS DEATH in 1938, Robert Johnson was barely known. But when King of the Delta Blues Singers (the 29 songs Johnson recorded in 1936 and 1937) was released in 1961, it immediately became Holy Writ for Rock N Roll guitarists and songwriters, including Bob Dylan and all the Yardbirds, including the guitarists, Eric Clapton, Jimmy Page, and Jeff Beck.
"The vibrations from the loudspeaker made my hair stand up," Bob Dylan said. "The stabbing sounds could almost break a window." — Bob Dylan recalled hearing King of the Delta Blues Singers for the first time.
Robert Johnson's 'King of the Delta Blues Singers'
"Ramblin' on My Mind" / "Traveling Riverside Blues"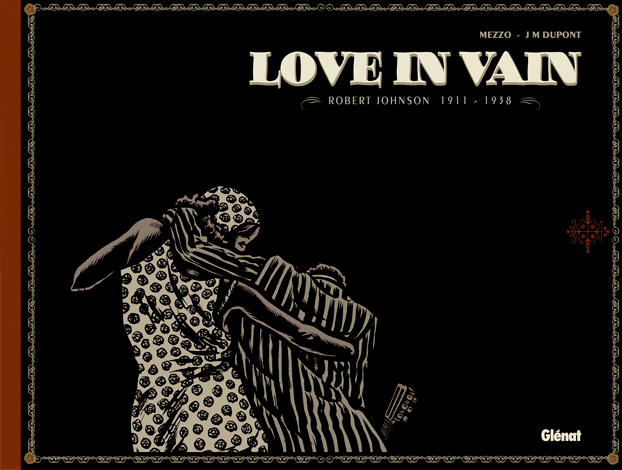 — OriginalNoise.Org
Love in Vain
Robert Johnson
1911-1938
Born in 1911 and dead at the tender age of 27 in 1938 (presumably poisoned by a rival in love) Robert Johnson was a street performer whose skills were unsurpassed – a stew of singing, guitar playing and songwriting that influenced all the blues to follow, from Muddy Waters to Eric Clapton.
He died as fast as he lived, and the tight script by French writer Jean-Michel Dupont puts the finger where it hurts: racial tensions, the downright shoddy back areas of the Mississipi delta, the run-down bars where Johnson was forced to perform and the general living conditions of African Americans in the Southern States. Dupont writes not only about Johnson, but about the state of America in the thirties and how, for Johnson, music was the only thing that kept him going (coupled with the booze and women that life entails).
One clever choice to recount the events that shape Johnson's life is Dupont's decision to have everything recited by a mysterious narrator who is linked to rumours of Johnson's fabled deal with the devil at the crossroads (which took me back to Tom Coker's incredible The Ride: The Devil Don't Sing No Blues, inspired by Johnson's legendary bargain; check out this image for some art).As inspired as Johnson's story and Dupont's script are, the visuals by Mezzo (of hardboiled noir drama King of the Flies fame) are equally strong.  Mezzo's solid black style, with heavy line work and strong staging, ups the ante on his previous work, and he turns in the best art I've seen from him yet. The landscape format allows him to go all out with rowdy crowd scenes, poverty-stricken rural areas and menacing skies of apocalyptic blackness. His figure work is also livelier and more fluid, showing an effort and a love of the subject.
— OriginalNoise.Org
Hailed as album of the year by French comic shops in 2015, Love in Vain. Robert Johnson – 1911-1938  by Jean-Michel Dupont and Mezzo is a dazzling read about a life dominated by the power of music and its ability to deliver hope in despair, and the dichotomy of a life searching for comfort as an escape.
Dupont's tight scripting coupled with Mezzo's visceral visuals give rise to a powerful graphic novel. Let's hope Fantagraphics is reading this so English-language readers can enjoy this one too!
— OriginalNoise.Org
Love in Vain. Robert Johnson (1911-1938) by Jean-Michel Dupont & Mezzo is published in French by Glénat. It is a black-and-white hardcover counting 72 pages and retails for €19.50. This review was based on the Dutch edition, published by Sherpa, who have a very nice preview on their homepage (in Dutch).
— OriginalNoise.Org
— OriginalNoise.Org
BAPTIST TOWN, UNITED STATES – SEPTEMBER 30: A mural of legendary blues musician Robert Johnson, with lyrics from his song Crossroad Blues. During a shoot for Total Guitar Magazine/Future via Getty Images, September 30, 2010. (Photo by Ed Mitchell/Total Guitar Magazine/Future via Getty Images)
"The Devil Went Down to Georgia"
1979 — Charlie Daniels
((( LISTEN )))
"Devil Dead"
1987 — Lee "Scratch" Perry
Time Boom X De Devil Dead
((( LISTEN )))
You Can't Trust Satan
2000 — Scott Putesky (Daisy Berkowitz)
After creating Marilyn Manson with high school mate Brian Warner, Scott Putesky learned and important lesson.
((( LISTEN )))
Running With The Devil (Marilyn Manson)
Scott Putesky (Daisy Berkowitz) @ Churchill's Pub
—.!
Chicago Bound
Muddy Waters — When Muddy Waters was a young boy, he sat at the feet of Charley Patton and Son House, who were in their prime at the time.
Listening and learning from his elders, he was the player who electrified the blues, and pounded his guitar like a drum, and played slide on the low strings, bringing forth his identifiable, deep, guttural moan, that well matched his vocals.
b/ Derek Trucks — I was already a Muddy fan – the Muddy of Chess Records – when I heard his Library of Congress recordings, captured by Alan Lomax in 1941 and 1942. They caught Muddy so young, when he was a complete unknown, maybe self-conscious and shy, listening back to his voice for the first time. There is something vulnerable about it, but also fully formed. For slide players in the Delta, it was a call-and-response thing with themselves. The slide would take the other voice, like a female voice in a choir. Muddy carried it right on through to Chicago.
There are riffs ("Muddy licks") he would play over turnarounds that were unique to him. You can hear some Muddy licks in Hendrix's playing. Later on, as Muddy got older, he played guitar less and less. But when he did jump in, you knew it. He had Buddy Guy and Jimmy Rogers in his bands. But when you played with Muddy, you didn't play what he did, because that shit was covered.  
"Rollin' Stone" / "Mannish Boy"
The 100 Greatest Artists of All Time: Muddy Waters
The 100 Greatest Singers of All Time: Muddy Waters
Muddy Waters: 1915-1983
—.!
Chester Arthur Burnett
Howlin' Wolf (Chester Arthur Burnett) was a Chicago blues singer, guitarist, and harmonica player. Originally from Mississippi, he made his biggest musical strides after moving to Chicago in (?)It was there, at the north end of the Underground railroad, where his musical rivalry with Muddy Waters began.
With a booming voice and imposing physical presence, Howlin' Wolf was, and remains one of the most dynamic and memorable of the Chicago blues artists.
The musician and critic Cub Koda noted, "no one could match Howlin' Wolf for the singular ability to rock the house down to the foundation while simultaneously scaring its patrons out of its wits." Producer Sam Phillips recalled, "When I heard Howlin' Wolf, I said, 'This is for me. This is where the soul of man never dies.'"[2] Several of his songs, including "Smokestack Lightnin'", "Killing Floor" and "Spoonful", have become blues and blues rock standards. In 2011, Rolling Stone magazine ranked him number 54 on its list of the "100 Greatest Artists of All Time."
"FUCK OFF" — Howlin' Wolf to Lowell George (Little Feat/Frank Zappa) at the Santa Monica Civic Center (1974).
—.!
Buddy Guy
Buddy Guy got used to people calling his guitar style a bunch of noise – from his family back in rural Louisiana, who chased him out of the house for making a racket, to Chess Records heads Phil and Leonard Chess, who, he says, "wouldn't let me get loose like I wanted" on sessions with Muddy Waters, Howlin' Wolf and Little Walter. But as a new generation of rockers discovered the blues, Guy's fretwork became a major influence on titans from Jimi Hendrix to Jimmy Page. Guy's flamboyant playing – huge bends, prominent distortion, frenetic licks – on such classics as "Stone Crazy" and "First Time I Met the Blues," and his collaborations with the late harp master Junior Wells, raised the standard for six-string fury. His showmanship, complete with mid-solo strolls through the audience, remains electrifying at age 75. "He was for me what Elvis was probably like for other people," said Eric Clapton at Guy's Rock and Roll Hall of Fame induction in 2005. "My course was set, and he was my pilot."
w/ Vernon Reid (Lightning In A Bottle)
"Stone Crazy" / "First Time I Met the Blues"
Damn Right, He's Buddy Guy
Rock and Roll Hall of Fame 2005: Buddy Guy
—.!
Bo Diddley
"It's the mother of riffs," says guitarist Johnny Marr, the "Bo Diddley Beat," introduced by the Chicago guitarist born Ellas Otha Bates, a.k.a. Diddley. Driven by his tremoloed guitar, songs such as "Mona" and "Bo Diddley" unleashed a super-powered version of a WEST AFRICAN GROOVE THAT WAS HANDED DOWN BY SLAVES. After Diddley, the riff would be hijacked by everyone from Buddy Holly to the Rolling Stones (who covered "Mona" in 1964), and, later, garage rockers and punks, who responded to its raw simplicity. (The Clash made the connection formal when they brought him on tour in 1979; the Smiths built "How Soon Is Now?" around the riff.) "Anybody who picked up the guitar could do it," says Dan Auerbach of the Black Keys. "If you could keep a beat, you could play Bo Diddley." "His style was outrageous," Keith Richards said; it suggested "that the kind of music we loved didn't just come from Mississippi. It was coming from somewhere else."
"Bo Diddley" / "Road Runner" / "Who Do You Love?"
The 100 Greatest Artists of All Time: Bo Diddley
Bo Diddley: The Rolling Stone Interview
Otis Rush
In Chicago in the sixties, "the rules had been laid down" for young, white blues bands, Mike Bloomfield told Rolling Stone in 1968. "You had to be as good as Otis Rush." That wasn't easy. A Mississippi native who moved to the Windy City in the late Forties, Rush was a fearsome electric guitarist – with a grittytreble tone and lacerating attack, like a gunslinging cross of Muddy Waters and B.B. King – as well as a knockout songwriter. Along with guitarists like Magic Sam and Buddy Guy, Rush helped create the more modernized, R&B-influenced approach to Chicago blues that came to be known as the West Side Sound. Rush's impact on later generations was enormous: His late-Fifties and early-Sixties singles were go-to covers for Led Zeppelin ("I Can't Quit You Baby"), John Mayall ("All Your Love [I Miss Loving]") and the J. Geils Band ("Homework"), while Stevie Ray Vaughan named his band after Rush's lethal '58 lament "Double Trouble."
"I Can't Quit You Baby" / "Double Trouble" / "Homework"
Lowell George (Little Feat)
Lowell Thomas George  — An American singer, songwriter, multi-instrumentalist, and producer, who was the primary guitarist, vocalist, songwriter and founder/leader for the rock band Little Feat. (w/Frank Zappa) Bill Payne (piano/Hammond B3) Jon Lord (Deep Purple) Chuck Leavell.
"Go To Hell"
b/ Alice Cooper (1976) Go To Hell
((( LISTEN )))

.
— Vg

— dave.
Ladell McLin, uncle in Chi-lites, Chicago's South Side, on the edge of the Ghetto. Living in storage building in Soho. The "L" Train, last stop before crossing into Brooklyn. Linda, Up On The Roof.
Change Is Gonna Come
1964 — Sam Cooke
((( LISTEN )))
— Vg
"The Problem We All Live With" Norman Rockwell
"Crossroads"
b/ Eric Clapton Cream Wheels Of Fire (1968)
((( LISTEN )))
• The Wonderful World Of Living Colour
• "Blue Was Angry"
Allan Harris tells the African-American story seldom told.
Cross Road Blues
1936 — Robert Johnson
((( LISTEN )))

Crossroads (movie) 1986
1936 — Robert Johnson wrote and recorded "Cross Road Blues," his original promise to The Devil.
"Me and the Devil Blues"
"Hellhound on My Trail"
—.!
Cross That River
The Texas Alternative
In Texas (west of the Mississippi) "things" were known to be better. More Free.
1865 — Juneteenth (Galveston, Texas)
abFreedom finally came on June 19, 1865, when 2,000 Union troops arrived in Galveston Bay, Texas. The army announced that the more than 250,000 enslaved black people in the state, were free by executing decree. The day came to be known as "Juneteenth" by the newly freed people in Texas.
—.!
1855 — In the years preceding the Civl War (before Juneteenth), there was a community of black (mostly) men who were already living free. Called "Black Cowboys," they had earned pay and privileges, equal to any of the white men they worked alongside, driving cattle from Texas, into Kansas, Nebraska, and Oklahoma.
Blue Was Angry
2016 — Allan Harris
Cross That River Live In Miami
((( WATCH )))

— dave.
2003 — Allan Harris Cross That River  
Since releasing Cross That River, Allan Harris has never stopped telling the often overlooked, African American story of slavery, war, peace, repression, and freedom, WEST OF THE MISSISSIPPI RIVER.  
Running Free — Allan Harris (a favorite of Tony Bennett) is known as a Nat King Cole-style crooner. He is, but he'll quickly say that he started as a Jimi Hendrix inspired guitar player, who is comfortable in any genre of music. In 2003, he wrote, played, and released Cross That River, a story about a cotton-picking slave named Blue who lived  in 1851 Louisiana. The record could be described as a Country/Roots record about the group of runaway/escaped slaves known as "Black Cowboys." Their's is an often overlooked group, in the telling of the African-American story.
HeyJude
1967 — Wilson Pickett / Duane Allman  
FAME STUDIO (Muscle Shoals, Alabama)
((( LISTEN )))
— Vg
Duane Allman at Muscle Shoals, Alabama's Open Mind. The "real" Sweet Home Alabama, where black & white sang along one another. Aretha Franklin, King Curtis, Otis Rush, Boz Skaggs, Tim Weisberg.
"Went Down To The Crossroads"
1975 — Eric Clapton EC Was Here
((( LISTEN )))
— OriginalNoise.Org
French Creators Mezzo and Dupont Paint a Powerful and Moving Tribute to Blues Legend Robert Johnson
b/ Bart Croonenborghs
August 21, 2015
Tales of Kidd Funkadelic
1991  — A Tribe Called Quest
The Low End Theory
((( LISTEN )))
— Crossroads (1986)
Where Robert Johnson made his deal with the devil.
— OriginalNoise.Org
— OriginalNoise.Org
— OriginalNoise.Org
— OriginalNoise.Org
— OriginalNoise.Org
— OriginalNoise.Org
— yZ.