[ Blue ]
The Original Color of Sin. 
"My Friend Sin"
Bernard Fowler
The Bura
2019 —
((( song )))
— Bernard Fowler
Bernard Fowler grew up relatively poor, in New York City's Queensbridge Projects, in the shadow of the Queensboro Bridge, what would be his first step on a musical journey that would take him around the world countless times, for the past thirty five years, traveling with his Rolling Stone bandmates.
Now & Then
"King Bee"
Tack>>Head (Bernard Fowler)
Funky President v. King Bee
2012 —
((( song )))

— Robert Johnson
For decades, this 5-cent (photo booth) portrait was one of only a few photographs of Robert Johnson known to exist. The scarcity of pictures has  always added to the lore around Robert Johnson, the original bluesman who came to The Crossroads, and made his Faustian Deal With The Devil.
"Cross Road Blues"
Robert Johnson
1936 — Where the path of the Blues was chosen.
((( song )))

Crossroads (movie) 1986
After meeting The Devil, and making his mysterious "deal," Robert Johnson started a journey that would lead him and his guitar down the Mississippi River, deep into the Delta, and in the end, Straight To Hell.
"Crossroads" is a 1980s interpretation of Robert Johnson's Deal With The Devil story. Steve Vai appears as the devil's virtuoso in the climactic guitar duel with Ralph Macchio, the movie's lead character, whose guitar is played by Ry Cooder. Other cast members include Joe Seneca and Jami Gertz.
• LOVE IN VAIN ROBERT JOHNSON (GRAPHIC NOVEL) 1936
• THE AFRICAN AMERICANS: MANY RIVERS TO CROSS (PBS)
Funky Obama
Tack>>Head
For The Love Of Money
2014 —
((( song )))


Art b/ Shepard Fairy
History Of (Hip-Hop) Song
Keith Leblanc

A Flower Bloomed In Hell."
Deep River
Little Axe
w/Adrian Sherwood
On-U Sound Live @ The Jazz Cafe
London, England
2017 —
((( future blues )))
C Brandon/Redferns (Getty Images)
Little Axe
2017 — Skip 'Little Axe' McDonald
at KOKO, London, England.
When discussing the long history of The Blues, many, if not most well educated writers and scholars, overlook, or don't know to mention Skip "Little Axe" McDonald. Most times, Skip is described as a Founding Father. At The Dawn of Hip-Hop, he was the guitarist in the original Sugar Hill Records' House Band, laying the foundation of the what would become a dominate force in the music industry of the 1980s. Today, Sugar Hill's  "Rapper's Delight," "The Message," and "White Lines" are Hip-Hop's most important Anthems. The songs, beats, raps, or whatever you'd like to call the musical graffiti that rose up from the ghetto, and staked it's claim, in the open-air parks in and around New York City. The B-Boy Culture was on it's way into commercial pop heaven, and Skip (with his rhythm section mates, bassist Doug Wimbish and drummer Keith Leblanc) was one of the original guides.
No matter how far Skip flew, he never lost sight of his past, and the music he wrote, whether it be Pop, Rock, Funk, Ambient, or Dub, was (and is) always firmly rooted in the Blues and Gospel he first played with his mother and father in the God-fearing, Christian church of his youth.
A conservative beginning, but with an open-minded understanding that intensified his desire to explore, discover, and create the future of sound.
"Great Heroes"
Skip "Little Axe" McDonald
London Blues
2017 —
((( song )))

— Real World Records
Skip "Little Axe" McDonald — Never Turn Back 1993 Spin, The Wolf that House Built 1994 Okeh/Wired, Slow Fuse 1996 Wired, Hard Grind 2002 On-U Sound, Champagne & Grits 2004 Real World/Virgin, Stone Cold Ohio 2006 Real World/Virgin, Bought for a Dollar, Sold for a Dime 2010 Real World, If You Want Loyalty Buy a Dog 2011 On-U Sound, Wanted: Live 1996 2012 Little Axe Recordings, Return 2013 Echo Beach, One Man:One Night 2016 12:10 Records, London Blues 2017 Echo Beach.
Little Axe
Skip "Little Axe" McDonald (guitar/voice)
— Doug Wimbish (bass guitar)
— Keith Leblanc (drums)
— Bernard Fowler (voice)
— Sas Bell (voice)
— Kevin Gibbs (voice)
"Midnight Dream"
Little Axe
2007 —
((( song )))
— xyZ.
"Are You Glad To Be In America?"
James Blood Ulmer
Are You Glad To Be In America (?)
1980 —
((( song )))
— UnKnown
Pinocchio Parade (c.1949) was the photograph James "Blood" Ulmer used as the cover for his 7″ (vinyl) single, "Are You Glad To Be In America?," released in 1980.
((( video )))
"Spoonful"
James "Blood" Ulmer w/ Vernon Reid
Live In Paris
2006 —
Released in 1979, the 12″ single "Rapper's Delight" launched Hip-Hop as a multi-billion-dollar phenomenon. The opportunistic 15-minute track also revived the career of its producer, Sylvia Robinson, a canny R&B veteran whose success left the true pioneers of Rap fuming."
1979 — Rapper's Delight
into what became Hip-Hop's outer regions of space, where Skip's always been, much of that time with his Original Sugar Hill Rhythm Section brothers, Doug Wimbish (electric bass guitar) and Keith Leblanc (drums).
Like Motown's Funk Brothers before them in the mid and late 1960s, The New York Times called Skip, Doug, and Keith (Sugar Hill House Band) the "world's finest rhythm section," and hardly anyone knew their names.
Before the emergence of Hip-Hop, Skip had played and toured with a number of bands and musicians, including The Entertainers, James Brown, Al Green, The Ohio Players, and Musique, before getting together with Harold Sargent, his old drummer friend from Dayton, and putting their own band (Wood, Brass, & Steel) together.
As far away as travels have taken him from his Gospel and Blues roots, Skip has always been well grounded, never losing contact with Planet Earth, from where The Blues grew.
No matter the time or place, Skip's thoughtful and experimental soul guides him in discovering the future of musical sound.
More direct, the future of The Blues … Ambient, Virtuosic, and Pure.
"Proud Mary"
Ike & Tina Turner
Rollin' On The River
1970 —  Workin' Together 
1971 — Black Man's Soul
((( soul )))
— Ani DiFranco (1999) Travel Channel
The "Mighty" Mississippi
River of Song — (PBS) Ani DiFranco, explores the music still being played in the small clubs and jukes along the Mississippi River … those joints that have been preserved in a more honest time.
Rufus Thomas, Little Milton, Levon Helm, Ann Peebles, Memphis Horns, "Nutbush City Limits," Stax Records, Sun Studio, James "Blood" Ulmer, Vernon Reid, Skip "Little Axe" McDonald, On-U Sound …
"Cross That River"
1850 — Allan Harris tells the story of Blue, a cotton-picking slave on a Louisiana plantation, who makes a death-defying escape across the Red River, into Texas, where, as a free man, makes an equal living, working on Chisholm Trail cattle drives. Called "Black Cowboys," this large group of Free Black African American Men grew into an important community in Midwest America, many settling, marrying, and starting businesses and families.
"Buffalo Soldiers,"
"Take Me To The River"
Annie Lennox w/ Doug Wimbish
Medusa 
1995 —
((( song )))
Selma Happened
"The Bridge" 
MARCH 7, 1965 — BLOODY SUNDAY
"East River" (NYC)
Brecker Brothers
Heavy Metal Bebop
1978 — A Collision In Time & Space
((( fusion? )))
— Charles Hoff (New York Daily News)
The Queensboro Bridge (NYC)
1909 — The Queensboro Bridge is a cantilever bridge that crosses the East River, connecting Long Island City in the borough of Queens and the Upper East Side of Manhattan, passing over Roosevelt Island. The bridge is also known as the 59th Street Bridge because its end in Manhattan is between 59th and 60th streets.
"Sympathy For The Devil"
Bernard Fowler
Inside Out
2021 —
((( spoken word )))

"New York Time"
Bernard Fowler  (INTERVIEW)
2009 — After 20 years on the road with the Rolling Stones, Bernard Fowler released "New York Time," a heart-felt thanks to the one (and only) city he will always call home. Back across the Pacific, Indian, and Atlantic Oceans, back across New York Harbor, back across the East River, and in the end of the road, back across The Queensboro Bridge.
BERNARD FOWLER (INTERVIEW)
THE WONDERFUL WORLD OF LIVING COLOUR (VIVID)
"Take A Walk On The Wild Side"
Bernard Fowler
Tack>>Head
For The Love Of Money
2014 —
((( song )))
Muddy Waters w/The Rolling Stones
@ The Checkerboard Lounge (Chicago)
November 22, 1981 — In the middle of their American Tour, The Rolling Stones arrived three days early and did a three-night stand at Chicago's Rosemont Horizon Hotel, before the scheduled show that weekend.
1972 — The Checkerboard Lounge was a Blues Club on the South Side of Chicago, Illinois, established in 1972 at 423 E. 43rd St. by L.C. Thurman and Buddy Guy.
1985 — Guy left the partnership and later established Buddy Guy's Legends in Chicago's South Loop neighborhood.
The Rolling Stones video and live album Live at the Checkerboard Lounge, Chicago 1981 included the Rolling Stones performing with Muddy Waters, Buddy Guy, Junior Wells, and members of Muddy Waters' band.
Long influenced by the Blues in Chicago, the Rolling Stones paid a visit to Buddy Guy's club, the Checkerboard Lounge, to see Muddy Waters perform. It didn't take long before Mick Jagger, Keith Richards, Ronnie Wood, and Ian Stewart were on stage sitting in. Later, the jam was joined by Chicago favorites, Buddy Guy and Lefty Dizz.
It was an impromptu performance that was fortunately captured on film.
Now, restored from the original footage and with sound mixed and mastered by Bob Clearmountain, this amazing Blues night is being made available in an official release for the first time.
JAZZIZ — (Photographs of the Blues Clubs on Chicago's Southside, including Lefty Dizz.)
"Vice" In Miami
Melle Mel
w/ The Original Sugar Hill Rhythm Section
Miami Vice Soundtrack
1984  —
((( song )))
— yZ.
Kick Ass Rock N Roll
@ The Orange Bowl
Nov.16, 1989 — Parked on the street in Little Havana. Two second row tickets for the Rolling Stones in the Orange Bowl, where the Miami Dolphins and the University of Miami Hurricanes play. Meet at the inflated "Bud" can. Passed out under the Visa banner. $300 Leather Jackets, rather than T-Shirts. Coffee-table, hard-cover, photography books, rather than a paper poster or ad-filled program. Entering the stadium, and looking down toward the mammoth stage in the opposite end zone, we saw Living Colour in the middle of "Cult of Personality," the last tune in their set. Chuck Leavell, wish it was Pink Floyd, the Rolling Stones, Yes, but it was Chuck taking a solo in …
"That's Alice to You." — Alicia
(Young woman at Enriqueta's coffee window. Little Haiti [Biscayne Blvd. & 36th Street, west one block to 2nd Avenue]. New Times new [Arquitectonica] building, from downtown to the [Little Haiti] Ghetto.)
In The Alley (Miami, Florida) — Biscayne Blvd. & 35th St. west to 2nd Ave. COUPLE SHOOTING HEROIN WITH INFANT IN GROCERY CART.
New Times In Miami  — Bayfront Park, Freedom Tower, I-95 entanglement, 5th Street Causeway, Sears Building, Miami Herald, Arscht, Hamilton, Al Di Meola, Al's Dad, Lee Ritenour, Bacardi Tile, Will Calhoun, Robert Redford, Young Arts. Miami Beach Fashion. Boutique. Gay guy, SOBE babe, $50,000, heavy black beads, short, tiny, "cocktail" dress. Soundscape Park, Underground. Design District / Lincoln Road / Miami Light Project … Lincoln Road, Colony Theater, Van Dyke Cafe, Jackie Gleason Theater, Books & Books, Mitch Kaplan, Barbara Kapitman, Herman Leonard, Lenny Kravitz, Laura Kelly, Nancy & Steve (architects), Art Deco Weekend, Candy Kokuris, Century Hotel, Beach Side cut-coral patio, noisy palms, blustery night, Candy with Red Bee Hive Hairdo, Poodle Skirt, Saddle Shoes (50s) Blues singer. Don't know if its Candy's "everyday" look. Ron, Mike Seemuth, JP Faber, Andrew and Gail, Deb (photographer with Eastern Airline pilot husband), Pier, Vincent, Dee Dee, Michael & Elaine (surfer and dancer), Miami Light Project, Karen Rabino, Jeannine?, Peter Rabino, Hunter Reno, Cigar & Cocktail, Brian Smith, Easter Meeting, Dan't Bird Of Paradise, Peter Rabino's birthday, same as girlfriend, friendly PHISH vs. SOUL ASYLUM argument.
— Miami, Florida
Bernard Fowler
"Little Red Rooster" / "Satisfaction"
• THE STONES WERE ALWAYS BLUE
The Rolling Stones
Sympathy for the Devil, and a Lifelong Love of the Blues.
& The Wonderful World of Living Colour
Bernard Fowler w/ The Rolling Stones
1985 — She's the Boss (Mick Jagger)
1987 — Primitive Cool (Mick Jagger)
1989 — Steel Wheels (Rolling Stones)
Mick Jagger's Eye For (American) Talent
"I'm A King Bee"
Bernard Fowler
Tack>>Head
For The Love Of Money
2014  —
((( song )))
— dave.
2009 — Tack>>Head
NEW YORK TIME
Friends With Privileges
@ The Highline Ballroom (NYC)
Bernard Fowler w/ The Rolling Stones …
1993 — Wandering Spirit (Mick Jagger)
1991 — Flashpoint (Rolling Stones)
1992 — Tribute to Charlie Parker with Strings (Charlie Watts)
1992 — Slide on This (Ronnie Wood)
1992 — Main Offender (Keith Richards)
1993 — Wandering Spirit (Mick Jagger)
1993 — Warm and Tender (Charlie Watts)
1993 — Slide on Live: Plugged in and Standing (Ronnie Wood)
1993 — Jump Back (Rolling Stones)
1994 — Voodoo Lounge (Rolling Stones)
1995 — Stripped (Rolling Stones)
1996 — Long Ago and Far Away (Charlie Watts)
1997 — Bridges to Babylon (Rolling Stones)
1998 — No Security (Rolling Stones)
2000 — Live and Eclectic (Ronnie Wood)
2002 — Forty Licks (Rolling Stones)
2004 — Live Licks (Rolling Stones)
2004 — Tack>>Head
Back In The U.S.A.
Bernard Fowler (vocals)
Doug Wimbish (bass guitar)
Skip McDonald (guitar)
Keith Leblanc (drums)
Adrian Sherwood (mix)
Asylum Street Rehearsals
@ Sully's Pub & Tiki Bar (Hartford, Connecticut)
2005 — A Bigger Bang
2005 — Rarities 1971–2003
2008 — Shine a Light
2009 — w/ Tack>>Head.
2010 — I Feel Like Playing (Ronnie Wood)
2012 — Light the Fuse
2012 — GRRR! (Rolling Stones) compilation
2013 — Hyde Park Live
2015 — Live at the Tokyo Dome
2015 — Sticky Fingers Live
2015 — Hyde Park Live
2015 — Crosseyed Heart (Keith Richards)
2016 — Totally Stripped
2016 — Havana Moon
2017 — Sticky Fingers – Live At The Fonda Theatre 
2018 — San Jose '99
2018 — Voodoo Lounge Uncut
2019 — Bridges to Bremen
2019 — HONK (Rolling Stones) compilation
2019 — Bridges to Buenos Aires
2020 — Steel Wheels Live
2021 — A Bigger Bang Live (10″ Vinyl, 2 track)
2021 — A Bigger Bang: Live on Copacabana Beach
• The Wonderful World Of Living Colour
Corey Glover (vocals)
"The glamorous life of a Rock N Roll star."
— Corey Glover (Living Colour), bending over to grab his laundry out of the tour bus cargo hold.
— dave.
"Hi. I'm Slick," were Earl Slick's first words as he appeared from the sliding curtain between the front of the bus and his bunk in the back, from where he had just arisen. "You know, I'm the oldest guy on this tour … and God knows I feel it."
Earl was 67 (too-old-for-this-shit) years old, and nearing the end of a three-month tour of 2017's Celebrating David Bowie Tour.
In addition to having played in David Bowie's band, Slick was also close friends with John Lennon and Yoko Ono, and played guitar on their  Double Fantasy album — Lennon's last, released less than a year before his assassination (1980).
Rock N Roll Family affair. Slick's kids and grandkids. His 23-year-old daughter was singing backup, and her boyfriend was the drummer. And in Ponte Vedra, Slick's 9-year-old son was there, involved, and the subject of, much of the band's backstage banter … everyone enjoying having a kid around. The boy had come over from Gainesville, 35 miles inland (home of the University of Florida) where he lived with his mom, Slick's ex-wife.
Also, an old friend, recognized as the noticeably physical percussionist playing behind Jimi Hendrix at Woodstock. Now living 15 miles north, on A1A, in Jacksonville Beach.
David Bowie – vocals, chamberlin
Adrian Belew – lead guitar, backing vocals
Carlos Alomar – rhythm guitar, backing vocals, music director
George Murray – bass guitar, backing vocals
Dennis Davis – drums, percussion
Roger Powell – keyboards, Moog Taurus bass pedals, synthesizer, backing vocals (except 11–14 November 1978)
Dennis Garcia – keyboards, synthesizer (11–14 November 1978 only)
Sean Mayes – piano, string ensemble, backing vocals
Simon House – electric violin
Vernon Reid
"A Liar's Shade Of Blue"
This Little Room
2011
((( song )))
Ladell McLin
I Am King
Stand Out
((( audio )))

— Checkerboard Lounge
((( video )))
The Devil's Wife
Fort Lauderdale, Florida Live at Alligator Alley
Ladell McLin played in the Checkerboard Lounge House Band, toured with KoKo Taylor, Chi-Lite uncle. French documentary Back To Mississippi, Chicago to New Orleans.
Adam Falcon
Like A Soldier
Bohemian 959
((( audio )))

— ?
Woke Up Crying ((( video )))
Suffern, New York
"Woke Up Cryin'"
Adam Falcon (Demo) 2014
((( audio )))
The Mississippi Delta. Where The Blues Was Born.
Before, during, and after the time of Robert Johnson, Blues music has had a connection to Mississippi, and the Delta were the first seeds were planted.
"Preacher Blues"
Living Colour
Shade
2017
((( song )))
— joe mazzola
Son House
Charley (Charlie) Patton
Muddy Waters
Willie Dixon — With Muddy Waters, one of the two most influential artists in shaping the sound of Post WWII Chicago Blues.
Went Down To The Crossroads
1975 — Eric Clapton EC Was Here
((( LISTEN )))
Wayward Son 
Robert Johnson — DECADES AFTER HIS DEATH in 1938, Robert Johnson was barely known. But when King of the Delta Blues Singers (the 29 songs Johnson recorded in 1936 and 1937) was released in 1961, it immediately became Holy Writ for Rock N Roll guitarists and songwriters, including Bob Dylan and all the Yardbirds, including the guitarists, Eric Clapton, Jimmy Page, and Jeff Beck.
"The vibrations from the loudspeaker made my hair stand up," Bob Dylan said. "The stabbing sounds could almost break a window." — Bob Dylan recalled hearing King of the Delta Blues Singers for the first time.
Robert Johnson's 'King of the Delta Blues Singers'
"Ramblin' on My Mind" / "Traveling Riverside Blues"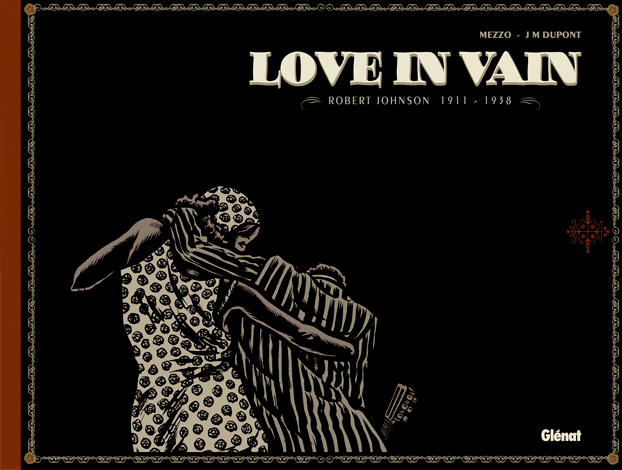 — OriginalNoise.Org
Love in Vain
Robert Johnson
1911-1938
Born in 1911 and dead at the tender age of 27 in 1938 (presumably poisoned by a rival in love) Robert Johnson was a street performer whose skills were unsurpassed – a stew of singing, guitar playing and songwriting that influenced all the blues to follow, from Muddy Waters to Eric Clapton.
He died as fast as he lived, and the tight script by French writer Jean-Michel Dupont puts the finger where it hurts: racial tensions, the downright shoddy back areas of the Mississipi delta, the run-down bars where Johnson was forced to perform and the general living conditions of African Americans in the Southern States. Dupont writes not only about Johnson, but about the state of America in the thirties and how, for Johnson, music was the only thing that kept him going (coupled with the booze and women that life entails).
One clever choice to recount the events that shape Johnson's life is Dupont's decision to have everything recited by a mysterious narrator who is linked to rumours of Johnson's fabled deal with the devil at the crossroads (which took me back to Tom Coker's incredible The Ride: The Devil Don't Sing No Blues, inspired by Johnson's legendary bargain; check out this image for some art).As inspired as Johnson's story and Dupont's script are, the visuals by Mezzo (of hardboiled noir drama King of the Flies fame) are equally strong.  Mezzo's solid black style, with heavy line work and strong staging, ups the ante on his previous work, and he turns in the best art I've seen from him yet. The landscape format allows him to go all out with rowdy crowd scenes, poverty-stricken rural areas and menacing skies of apocalyptic blackness. His figure work is also livelier and more fluid, showing an effort and a love of the subject.
— OriginalNoise.Org
Hailed as album of the year by French comic shops in 2015, Love in Vain. Robert Johnson – 1911-1938  by Jean-Michel Dupont and Mezzo is a dazzling read about a life dominated by the power of music and its ability to deliver hope in despair, and the dichotomy of a life searching for comfort as an escape.
Dupont's tight scripting coupled with Mezzo's visceral visuals give rise to a powerful graphic novel. Let's hope Fantagraphics is reading this so English-language readers can enjoy this one too!
— OriginalNoise.Org
Love in Vain. Robert Johnson (1911-1938) by Jean-Michel Dupont & Mezzo is published in French by Glénat. It is a black-and-white hardcover counting 72 pages and retails for €19.50. This review was based on the Dutch edition, published by Sherpa, who have a very nice preview on their homepage (in Dutch).
— OriginalNoise.Org
— OriginalNoise.Org
BAPTIST TOWN, UNITED STATES – SEPTEMBER 30: A mural of legendary blues musician Robert Johnson, with lyrics from his song Crossroad Blues. During a shoot for Total Guitar Magazine/Future via Getty Images, September 30, 2010. (Photo by Ed Mitchell/Total Guitar Magazine/Future via Getty Images)
"The Devil Went Down to Georgia"
1979 — Charlie Daniels
((( LISTEN )))
"Devil Dead"
1987 — Lee "Scratch" Perry
Time Boom X De Devil Dead
((( LISTEN )))
Running With The Devil
2000 — Scott Putesky (Daisy Berkowitz)
After creating Marilyn Manson with high school mate Brian Warner, Scott Putesky learned and important lesson.
((( LISTEN )))
Running With The Devil (Marilyn Manson)
Scott Putesky (Daisy Berkowitz) @ Churchill's Pub
"Go To Hell"
b/ Alice Cooper (1976) Go To Hell
((( song )))
"Crossroads"
b/ Eric Clapton Cream Wheels Of Fire (1968)
((( LISTEN )))
Cross Road Blues
1936 — Robert Johnson
((( LISTEN )))

Crossroads (movie) 1986
1936 — Robert Johnson wrote and recorded "Cross Road Blues," his original promise to The Devil.
"Me and the Devil Blues"
"Hellhound on My Trail"
—.!
Cross That River
The Texas Alternative
In Texas (west of the Mississippi) "things" were known to be better. More Free.
1865 — Juneteenth (Galveston, Texas)
abFreedom finally came on June 19, 1865, when 2,000 Union troops arrived in Galveston Bay, Texas. The army announced that the more than 250,000 enslaved black people in the state, were free by executing decree. The day came to be known as "Juneteenth" by the newly freed people in Texas.
—.!
HeyJude
1967 — Wilson Pickett / Duane Allman  
FAME STUDIO (Muscle Shoals, Alabama)
((( LISTEN )))
— Vg
Duane Allman at Muscle Shoals, Alabama's Open Mind. The "real" Sweet Home Alabama, where black & white sang along one another. Aretha Franklin, King Curtis, Otis Rush, Boz Skaggs, Tim Weisberg.
"Went Down To The Crossroads"
1975 — Eric Clapton EC Was Here
((( LISTEN )))
— OriginalNoise.Org
French Creators Mezzo and Dupont Paint a Powerful and Moving Tribute to Blues Legend Robert Johnson
b/ Bart Croonenborghs
August 21, 2015
Tales of Kidd Funkadelic
1991  — A Tribe Called Quest
The Low End Theory
((( LISTEN )))
— OriginalNoise.Org
— yZ.
Blue Was Angry
2016 — Allan Harris
Cross That River Live In Miami
((( WATCH )))

— dave.
2003 — Allan Harris Cross That River  
Since releasing Cross That River, Allan Harris has never stopped telling the often overlooked, African American story of slavery, war, peace, repression, and freedom, WEST OF THE MISSISSIPPI RIVER.  
Running Free — Allan Harris (a favorite of Tony Bennett) is known as a Nat King Cole-style crooner. He is, but he'll quickly say that he started as a Jimi Hendrix inspired guitar player, who is comfortable in any genre of music. In 2003, he wrote, played, and released Cross That River, a story about a cotton-picking slave named Blue who lived  in 1851 Louisiana. The record could be described as a Country/Roots record about the group of runaway/escaped slaves known as "Black Cowboys." Their's is an often overlooked group, in the telling of the African-American story.
1855 — In the years preceding the Civl War (before Juneteenth), there was a community of black (mostly) men who were already living free. Called "Black Cowboys," they had earned pay and privileges, equal to any of the white men they worked alongside, driving cattle from Texas, into Kansas, Nebraska, and Oklahoma.
Change Is Gonna Come
1964 — Sam Cooke
((( LISTEN )))
— Vg
"The Problem We All Live With" Norman Rockwell
Oblighetto
A Tribe Called Quest
The Low End Theory 
1991 —
((( sound )))