•  Directory / Navigation  / Search / Look to See
[ robert ]
Johnson 
  THE WONDERFUL WORLD OF LIVING COLOUR
— OriginalNoise.Org
That so few photographs of Robert Johnson exist, ads to the mystery and lore surrounding Mississippi Delta guitar player who made a deal with the Devil.
@ The Crossroads
Club 27 — Brian Jones, Jimi Hendrix, Janis Joplin, and Jim Morrison all died at the age of 27 between 1969 and 1971. At the time, the coincidence gave rise to some comment,  but it was not until Kurt Cobain's 1994 death, at age 27, that the idea of a "27 Club" began to catch on in public perception. Blues musician Robert Johnson, who died in 1938, is the earliest popular musician who has been included in the members of the 27 Club.
Crossroads (movie) 1986
Where the Deal Was Made
—.!
Living The Blues 
Robert Johnson
Decades after his death in 1938, Robert Johnson was barely known. But the 29 songs Robert Johnson recorded in 1936 and 1937 became holy writ to rock guitarists and songwriters, from Bob Dylan to Eric Clapton. 
Dylan recalled hearing King of the Delta Blues Singers for the first time. The record, a compilation of songs, was made in 1961, and in a way, brought Johnson back to life, or at least attention of listeners.
"The vibrations from the loudspeaker made my hair stand up," Dylan said. "The stabbing sounds could almost break a window."
Key Tracks: "Ramblin' on My Mind," "Traveling Riverside Blues"
Robert Johnson's 'King of the Delta Blues Singers'
Eric Clapton Covers Robert Johnson
Crossroads  is a 1986 America musical drama film inspired by the legend of blues musician Robert Johnson. Starring Ralph Macchio, Joe Seneca and Jami Gertz, the film was written by John Fusco and directed by Walter Hill. Original score by Ry Cooder featuring classical guitar by William Kanengiser (classical guitar), Sonny Terry.(harmonica). Steve Vai appears as the devil's virtuosic guitar player in the climactic guitar duel.
Fusco was a traveling blues musician prior to attending New York University Tisch School of the Arts, where he wrote Crossroads as an assignment in a master class led by the screenwriting giants Waldo Salt and Ring Lardner Jr. The student screenplay won first place in the national FOCUS Awards (Films of College and University Students) and was sold to Columbia Pictures while Fusco was still a student.
Elmore James
Mississippi-born singer-guitarist Elmore James had one immortal lick: the staccato-and-downhill slide riff in his 1951 adaptation of Robert Johnson's "I Believe I'll Dust My Broom."
"It was a great lick," says slide guitarist Derek Trucks. "There was something unleashed in his playing, that acoustic guitar with the electric pickup. When he's singing, you hear his voice through the electric pickup."
James also scored with sizzling variations of that lick in "Shake Your Moneymaker" and "Stranger Blues," which became blues-boom standards following his death in 1963.
James' tone inspired a generation of guitarists: "I practiced 12 hours a day, every day, until my fingers were bleeding, trying to get the same sound as Elmore James got," Robbie Robertson said. "Then somebody told me that he plays with a slide."
Trucks particularly loves James' solo in a 1960 version of "Rollin' and Tumblin'":
"It's real simple, but every note is in the right spot — funky and nasty. Say 'Play that Elmore lick,' and everybody knows what to do."
Key Tracks: "Dust My Broom," "The Sky Is Crying"
—.!
Crossing Into Texas
Blind Lemon Jefferson  (SEPTEMBER 24, 1893)
Henry Jefferson — One of the most popular blues singers of the 1920s and has been called the "Father of the Texas Blues."
Jefferson's music was popular, but had far less influence on the young blues/rock guitar players, than the more commercially successful Muddy Waters, John Lee Hooker, and the three "Kings," Albert, B.B., and Freddie.
The lack of his being imitated, was because most rock players found his guitar playing too complicated to follow, and then there was his distinctive, high-pitched voice … impossible to copy.
Lightnin' Hopkins
Samuel John Hopkins  — An American country blues singer, songwriter, guitarist and occasional pianist from Centerville, Texas. In 2010 Rolling Stone magazine ranked him No. 71 on its list of the 100 greatest guitarists of all time.
The musicologist Robert "Mack" McCormick opined that Hopkins is "the embodiment of the jazz-and-poetry spirit, representing its ancient form in the single creator whose words and music are one act". He was a notable influence on Townes Van Zandt, Hank Williams, Jr., and a generation of blues musicians like Stevie Ray Vaughan, whose Grammy winning song "Rude Mood" was directly inspired by the Texan's song "Hopkins' Sky Hop."
T-Bone Walker
When B.B. King heard T-Bone Walker, he "thought Jesus Himself had returned to Earth playing electric guitar." Walker invented the guitar solo as we know it, building a new style on fluid phrasing, bluesy bends and vibrato. It was the clear tone and melodic invention of his 1942 single "Mean Old World" that blew everyone's mind, and Walker refined his approach through hits like "Call It Stormy Monday." "I came into this world a little too soon," Walker said. "I'd say that I was about 30 years before my time."
Key Tracks: "Call It Stormy Monday," "T-Bone Shuffle," "Mean Old World"
Stevie Ray Vaughan
In the early eighties, MTV was on the rise, and blues guitar was miles away from music's mainstream. But Texas' Stevie Ray Vaughan demanded your attention. He had absorbed the styles of just about every great blues guitarist – plus Jimi Hendrix and a lot of jazz and rockabilly – and his monster tone, casual virtuosity and impeccable sense of swing could make a blues shuffle like "Pride and Joy" hit as hard as metal. Vaughan was recognized as a peer by the likes of B.B. King and Eric Clapton, and despite his 1990 death in a helicopter crash, he's still inspiring multiple generations of guitarists, from Pearl Jam's Mike McCready to John Mayer and rising young star Gary Clark Jr. "Stevie was one of the reasons I wanted a Stratocaster – his tone, which I've never been able to get down, was just so big and bold and bright at the same time," says Clark. "If you listen to his records and watch his videos, you can tell he's just giving you everything he had. His passion is overwhelming."
Key Tracks: "Love Struck Baby," "Cold Shot," "Look at Little Sister"
Clarence "Gatemouth" Brown
Clarence "Gatemouth" Brown  — An American singer and multi-instrumentalist from Louisiana known for his work as a blues musician. He spent his career fighting purism by synthesizing traditional blues and country, jazz, Cajun music and R&B. His work also encompasses rock and roll, rock, folk and Texas blues. He was famously a resident of Texas.
Brown was acclaimed for his skills on multiple instruments, including the guitar, mandolin, viola, violin, harmonica and drums. He won a Grammy Award for Best Traditional Blues Album in 1983 for his album, Alright Again!. He is regarded as one of the most influential exponents of the blues fiddle and has had enormous influence in American fiddle circles.
Brown's biggest musical influences were Louis Jordan, T-Bone Walker, and Count Basie. His highly original electric guitar style influenced many blues and rock guitarists, including Guitar Slim, Albert Collins, and Johnny "Guitar" Watson.
Brown was born in Vinton, Louisiana, and raised near Orange, Texas. His father was a railroad worker and local musician who taught him several musical instruments, including fiddle by age 5; as well as piano and guitar. He had at least one brother.
Tobacco Road — "The Thrill Is Gone" DON'T ASK.
Musician's Exchange — Orange Blossom Special (Fiddle) , Bugs Bunny stlyle, teetering on the edge of a cartoon cliff. Young bass and drum, saying Brown was fun to play with, but he did get ornery at times, since a mediator, between his wife and him, insisted he stop smoking pot in an effort to reconcile their differences.
—.!
Bound For Chicago
Muddy Waters — When Muddy Waters was a young boy, he sat at the feet of Charley Patton and Son House, who were in their prime at the time.
Listening and learning from his elders, he was the player who electrified the blues, and pounded his guitar like a drum, and played slide on the low strings, bringing forth his identifiable, deep, guttural moan, that well matched his vocals.
b/ Derek Trucks — I was already a Muddy fan – the Muddy of Chess Records – when I heard his Library of Congress recordings, captured by Alan Lomax in 1941 and 1942. They caught Muddy so young, when he was a complete unknown, maybe self-conscious and shy, listening back to his voice for the first time. There is something vulnerable about it, but also fully formed. For slide players in the Delta, it was a call-and-response thing with themselves. The slide would take the other voice, like a female voice in a choir. Muddy carried it right on through to Chicago.
There are riffs ("Muddy licks") he would play over turnarounds that were unique to him. You can hear some Muddy licks in Hendrix's playing. Later on, as Muddy got older, he played guitar less and less. But when he did jump in, you knew it. He had Buddy Guy and Jimmy Rogers in his bands. But when you played with Muddy, you didn't play what he did, because that shit was covered.  
Key Tracks: "Rollin' Stone," "Mannish Boy"
The 100 Greatest Artists of All Time: Muddy Waters
The 100 Greatest Singers of All Time: Muddy Waters
Muddy Waters: 1915-1983
Chester Arthur Burnett
Howlin' Wolf  (Chester Arthur Burnett) was a Chicago blues singer, guitarist, and harmonica player. Originally from Mississippi, he made his biggest musical strides after moving to Chicago in (?)It was there, at the north end of the Underground railroad, where his musical rivalry with Muddy Waters began.
With a booming voice and imposing physical presence, Howlin' Wolf was, and remains one of the most dynamic and memorable of the Chicago blues artists.
The musician and critic Cub Koda noted, "no one could match Howlin' Wolf for the singular ability to rock the house down to the foundation while simultaneously scaring its patrons out of its wits." Producer Sam Phillips recalled, "When I heard Howlin' Wolf, I said, 'This is for me. This is where the soul of man never dies.'"[2] Several of his songs, including "Smokestack Lightnin'", "Killing Floor" and "Spoonful", have become blues and blues rock standards. In 2011, Rolling Stone magazine ranked him number 54 on its list of the "100 Greatest Artists of All Time."
Buddy Guy
Buddy Guy got used to people calling his guitar style a bunch of noise – from his family back in rural Louisiana, who chased him out of the house for making a racket, to Chess Records heads Phil and Leonard Chess, who, he says, "wouldn't let me get loose like I wanted" on sessions with Muddy Waters, Howlin' Wolf and Little Walter. But as a new generation of rockers discovered the blues, Guy's fretwork became a major influence on titans from Jimi Hendrix to Jimmy Page. Guy's flamboyant playing – huge bends, prominent distortion, frenetic licks – on such classics as "Stone Crazy" and "First Time I Met the Blues," and his collaborations with the late harp master Junior Wells, raised the standard for six-string fury. His showmanship, complete with mid-solo strolls through the audience, remains electrifying at age 75. "He was for me what Elvis was probably like for other people," said Eric Clapton at Guy's Rock and Roll Hall of Fame induction in 2005. "My course was set, and he was my pilot."
With Vernon Reid (Lightning In A Bottle)
Key Tracks: "Stone Crazy," "First Time I Met the Blues"
Damn Right, He's Buddy Guy
Rock and Roll Hall of Fame 2005: Buddy Guy
These Three Kings
B.B. King
b/ Billy Gibbons
B.B.'s influences were set at an early stage. Being from Indianola, Mississippi, he goes back far enough to remember the sound of field hollers and the cornerstone blues figures, like Charley Patton and Robert Johnson. The single-note phrasing of T-Bone Walker was another thing. You can hear those influences in the choice of melodies that he not only sings vocally but lets his guitar sing instrumentally.
He plays in shortened bursts, with a richness and robust delivery. And there is a technical dexterity, a cleanly delivered phrasing. This was sophisticated soloing. It's so identifiable, so clear, it could be written out. John Lee Hooker — his stuff was too difficult to write out. But B.B. was a genuine soloist.
There are two things he does that I was desperate to learn. He originated this one cut-to-the-bone phrase where he hits two notes, then jumps to another string and slides up to a note. I can do it in my sleep now. And there's this twoor three-note thing, where he bends the last note. Both figures never fail to get you moving in your seat — or out of your seat. It's that powerful.
There was a turning point, around the time of [1965's] Live at the Regal, when his sound took on a personality that is untampered with today – this roundish tone, where the front pickup is out of phase with the rear pickup. And B.B. still plays a Gibson amplifier that is long out of production. His sound comes from that combination. It's just B.B.
Key Tracks: "3 O'Clock Blues," "The Thrill Is Gone," "Sweet Little Angel"
The 100 Greatest Singers of All Time: B.B. King
The 500 Greatest Albums of All Time: B.B. King's 'Live at the Regal'
Albert King
When Rolling Stone reporter Jon Landau asked Albert King in 1968 who his guitar influences were, King replied, "Nobody. Everything I do is wrong." A pioneer of electric blues, King (who was left-handed) played a right-handed 1959 Gibson Flying V upside down, with the bass strings unconventionally facing the floor. He used an indecipherable secret tuning, hitting notes with his thumb. The six-foot-four, 300-pound King was able to bend notes farther and more powerfully than almost any other guitarist, and his records influenced a generation: Eric Clapton lifted the "Strange Brew" solo from King, and Duane Allman turned the melody of King's "As the Years Go Passing By" into the main riff of "Layla." Jimi Hendrix was star-struck when his hero opened for him at the Fillmore in 1967. "I taught [Hendrix] a lesson about the blues," said King. "I could have easily played his songs, but he couldn't play mine."
Key Tracks: "Born Under a Bad Sign," "As the Years Go Passing By"
The 500 Greatest Albums of All Time: Albert King's 'Born Under a Bad Sign'
Freddy King
In a 1985 interview, Eric Clapton cited Freddy King's 1961 B side "I Love the Woman" as "the first time I heard that electric lead-guitar style, with the bent notes… [it] started me on my path." Clapton shared his love of King with fellow British guitar heroes Peter Green, Jeff Beck and Mick Taylor, all of whom were profoundly influenced by King's sharpened-treble tone and curt melodic hooks on iconic singles such as "The Stumble," "I'm Tore Down" and "Someday, After Awhile." Nicknamed "The Texas Cannonball" for his imposing build and incendiary live shows, King had a unique guitar attack. "Steel on steel is an unforgettable sound," says Derek Trucks, referring to King's use of metal banjo picks. "But it's gotta be in the right hands. The way he used it – man, you were going to hear that guitar." Trucks can still hear King's huge impact on Clapton. "When I played with Eric," Trucks said recently, "there were times when he would take solos and I would get that Freddy vibe."
Key Tracks: "Hide Away," "Have You Ever Loved a Woman," "The Stumble"
Albert Collins
In 1968, Jimi Hendrix talked about his love for a Houston blues luminary who wasn't known outside the region: "There's one cat I'm still trying to get across to people. He is really good, one of the best guitarists in the world." Albert Collins played with his thumb and forefinger instead of a pick to put a muscular snap into his piercing, trebly solos. His fluid, inventive playing influenced Hendrix, sometimes overtly: Jimi liked Collins' sustain in the song "Collins Shuffle" so much that he used it on "Voodoo Chile."
Key Tracks: "Frosty," "Sno-Cone Part 1"
Lowell George (Little Feat)
Lowell Thomas George  — An American singer, songwriter, multi-instrumentalist, and producer, who was the primary guitarist, vocalist, songwriter and founder/leader for the rock band Little Feat. (w/Frank Zappa)
Bo Diddley
"It's the mother of riffs," says guitarist Johnny Marr: the "Bo Diddley beat," introduced by the Chicago guitarist born Ellas Otha Bates, a.k.a. Diddley. Driven by his tremoloed guitar, songs such as "Mona" and "Bo Diddley" unleashed a superpowered version of a West African groove that was handed down by slaves; after Diddley, the riff would be hijacked by everyone from Buddy Holly to the Rolling Stones (who covered "Mona" in 1964), and, later, garage rockers and punks, who responded to its raw simplicity. (The Clash made the connection formal when they brought him on tour in 1979; the Smiths built "How Soon Is Now?" around the riff.) "Anybody who picked up the guitar could do it," says Dan Auerbach of the Black Keys. "If you could keep a beat, you could play Bo Diddley." "His style was outrageous," Keith Richards said; it suggested "that the kind of music we loved didn't just come from Mississippi. It was coming from somewhere else."
Key Tracks: "Bo Diddley," "Road Runner," "Who Do You Love?"
• The 100 Greatest Artists of All Time: Bo Diddley
• Bo Diddley: The Rolling Stone Interview
John Lee Hooker
"I don't play a lot of fancy guitar," John Lee Hooker once said. "I don't want to play it. The kind of guitar I want to play is mean, mean licks." Hooker's style couldn't be defined as urban or country blues – it was something entirely his own, mysterious and funky and hypnotic. On monumental classics like "Boogie Chillen" – a Number One R&B hit in 1949 – "Boom Boom" and "Crawlin' King Snake," he perfected a droning, stomping groove, often in idiosyncratic time signatures and locked on one chord, with an ageless power. "He was a throwback even in his own time," Keith Richards said. "Even Muddy Waters was sophisticated next to him." Hooker was a critical figure in the Sixties blues boom; his boogie became the basis for much of ZZ Top's early sound; his songs were covered by everyone from the Doors to Bruce Springsteen; and then, well after turning 70, he won four Grammys in the 1990s. "When I was a child," said Carlos Santana, "he was the first circus I wanted to run away with."
Key Tracks: "Boogie Chillen," "BoomBoom," "I'm in the Mood"
• The 100 Greatest Singers of All Time: John Lee Hooker
Otis Rush
In Chicago in the sixties, "the rules had been laid down" for young, white blues bands, Mike Bloomfield told Rolling Stone in 1968. "You had to be as good as Otis Rush." That wasn't easy. A Mississippi native who moved to the Windy City in the late Forties, Rush was a fearsome electric guitarist – with a grittytreble tone and lacerating attack, like a gunslinging cross of Muddy Waters and B.B. King – as well as a knockout songwriter. Along with guitarists like Magic Sam and Buddy Guy, Rush helped create the more modernized, R&B-influenced approach to Chicago blues that came to be known as the West Side Sound. Rush's impact on later generations was enormous: His late-Fifties and early-Sixties singles were go-to covers for Led Zeppelin ("I Can't Quit You Baby"), John Mayall ("All Your Love [I Miss Loving]") and the J. Geils Band ("Homework"), while Stevie Ray Vaughan named his band after Rush's lethal '58 lament "Double Trouble."
Key Tracks: "I Can't Quit You Baby," "Double Trouble," "Homework"
Johnny Winter
Out of all the hopped-up Caucasians who turbocharged the blues in the late Sixties, Texas albino Johnny Winter was both the whitest and the fastest. Songs like his 1969 cover of "Highway 61 Revisited" are astonishing showpieces of his lightningfast thumb-picked electric slide playing. Jimi Hendrix sought him out as a sideman, and Muddy Waters recognized his talent at first glance, becoming a friend and collaborator: "That guy up there onstage – I got to see him up close," Waters later said. "He plays eight notes to my one!"
Key Tracks: "I'm Yours and I'm Hers," "Fast Life Rider"
•  directory / navigation  /  search / look to see
— OriginalNoise.Org
French Creators Mezzo and Dupont Paint a Powerful and Moving Tribute to Blues Legend Robert Johnson
b/ Bart Croonenborghs
August 21, 2015
— Crossroads (1986)
Where Robert Johnson made his deal with the devil.
Love in Vain
Robert Johnson
1911-1938
Born in 1911 and dead at the tender age of 27 in 1938 (presumably poisoned by a rival in love) Robert Johnson was a street performer whose skills were unsurpassed – a stew of singing, guitar playing and songwriting that influenced all the blues to follow, from Muddy Waters to Eric Clapton.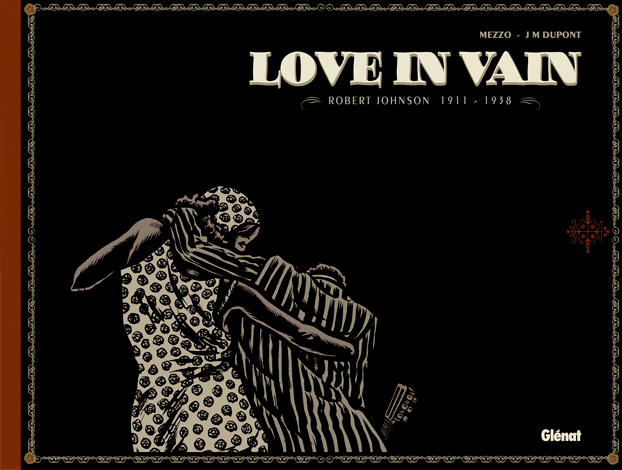 — OriginalNoise.Org
He died as fast as he lived, and the tight script by French writer Jean-Michel Dupont puts the finger where it hurts: racial tensions, the downright shoddy back areas of the Mississipi delta, the run-down bars where Johnson was forced to perform and the general living conditions of African Americans in the Southern States. Dupont writes not only about Johnson, but about the state of America in the thirties and how, for Johnson, music was the only thing that kept him going (coupled with the booze and women that life entails).
One clever choice to recount the events that shape Johnson's life is Dupont's decision to have everything recited by a mysterious narrator who is linked to rumours of Johnson's fabled deal with the devil at the crossroads (which took me back to Tom Coker's incredible The Ride: The Devil Don't Sing No Blues, inspired by Johnson's legendary bargain; check out this image for some art).
— OriginalNoise.Org
— OriginalNoise.Org
As inspired as Johnson's story and Dupont's script are, the visuals by Mezzo (of hardboiled noir drama King of the Flies fame) are equally strong.  Mezzo's solid black style, with heavy line work and strong staging, ups the ante on his previous work, and he turns in the best art I've seen from him yet. The landscape format allows him to go all out with rowdy crowd scenes, poverty-stricken rural areas and menacing skies of apocalyptic blackness. His figure work is also livelier and more fluid, showing an effort and a love of the subject.
— OriginalNoise.Org
Hailed as album of the year by French comic shops in 2015, Love in Vain. Robert Johnson – 1911-1938  by Jean-Michel Dupont and Mezzo is a dazzling read about a life dominated by the power of music and its ability to deliver hope in despair, and the dichotomy of a life searching for comfort as an escape.
Dupont's tight scripting coupled with Mezzo's visceral visuals give rise to a powerful graphic novel. Let's hope Fantagraphics is reading this so English-language readers can enjoy this one too!
— OriginalNoise.Org
Love in Vain. Robert Johnson (1911-1938) by Jean-Michel Dupont & Mezzo is published in French by Glénat. It is a black-and-white hardcover counting 72 pages and retails for €19.50. This review was based on the Dutch edition, published by Sherpa, who have a very nice preview on their homepage (in Dutch).
— OriginalNoise.Org
— OriginalNoise.Org
BAPTIST TOWN, UNITED STATES – SEPTEMBER 30: A mural of legendary blues musician Robert Johnson, with lyrics from his song Crossroad Blues. During a shoot for Total Guitar Magazine/Future via Getty Images, September 30, 2010. (Photo by Ed Mitchell/Total Guitar Magazine/Future via Getty Images)
— OriginalNoise.Org
— OriginalNoise.Org
— OriginalNoise.Org
— OriginalNoise.Org
— OriginalNoise.Org
— OriginalNoise.Org
— yZ.
•  START ( LOOKING TO SEE )
.