[ look to see ]
Earthrise
Christmas Eve
1968 —
— dave.
Apollo 8
"IN THE BEGINNING,
God created the heavens and the earth."
—— December 24, 1968
— dave.
Back to the Future — On that day (September 29, 1988), the launch of the space shuttle Discovery was to be America's anxiously awaited return to space … NASA's first manned mission since the Challenger disaster, two years before.
"Just Say Go" signs and green ribbons were everywhere that afternoon, all around Brevard County, expressing the Space Coast's renewed optimism. Nowhere was the hope higher, andmore on display,than in the small village that connects two of Florida's oldest and picturesque communities.
Cocoa and Rockledge sit comfortably on the Indian River, across from Merritt Island and Mosquito Lagoon. Front row seats in the World's most exciting theater.
Lost In Space
• ROCKETS I HAVE SEEN …

— dave.
Turning off US1, onto Coquina Road, andthen five miles north on the palm and oak-lined River Road, a dilapidated, corrugated metal building (the old Hub's Inn) marked my favorite spot to watch rockets launched from Cape Canaveral. Looking across the Indian River, toward Merritt Island, the monstrous VAB (Vertical/Vehicle Assembly Building), with its NASA logo and American flag visible from ten miles away, stands large on the horizon, a line of palmetto scrub, on the horizon, a line of palmetto scrub, on the long, sandy cape that defines Florida's East Central Coast.
SACRED GROUND
The point on Earth from where mankind embarked on its most ambitious voyage.
North  28°36′30.2″ West 80°36′15.6″
Last Stepping Stone
to The Moon

Launch Complex #39 — Where America's most accomplished pilots, engineers, scientists, doctors, and military officers (Astronauts) spent the last moments on Earth, before their being launched into space.
— dave.
SIGNING OFF — After every launch from Cape Canaveral, each rocket leaves its own, unique signature. An after cloud that lingers in the tropical breeze until it dissipates slowly. This infinity-shaped cloud was written by the space shuttle Discovery (STS-133), after it's final launch, February 24, 2011, on its way to re-supply the International Space Station. Within a year, two shuttles followed Discovery, and NASA's 40-year shuttle mission was over.
— U2/NASA
Message from above — Then the mission commander of STS-134, what might have been the last of NASA's 40-year space shuttle program, Mark Kelley took Bono up on his invitation to speak to U2 audiences from the International Space Station.
• THOSE MAGNIFICENT MEN IN THEIR FLYING MACHINES 
May 16, 2011 — (STS-134) The penultimate mission of NASA's Space Shuttle program, and the 25th and last spaceflight of Endeavour. Mark Kelly was the flight's mission commander, responsible for delivering the Alpha Magnetic Spectrometer and an ExPRESS Logistics Carrier to the International Space Station.
It was thought that STS-134 could have been the last, with most Republicans in Congress opposing the funding required to launch STS-135, but as soon as February, NASA announced definitely that STS-135 would fly, "regardless" of Congress' denial of funding.
July 8, 2011 — Taking advantage of the time and preparations necessary for STS-335, the "On Need" launch, the mission that would have been necessary if theSTS-134 crew became stranded in orbit. That made Atlantis (STS-135) the last. Two weeks after launch, upon its return and landing at the Kennedy Space Center, the 135th mission, and the entirety of NASA's 30-year Space Shuttle Program, was over.
What a Difference a Decade Makes
International Space Station
Galactic Waste Management
Richard Branson
Virgin Atlantic
Elon Musk
SpaceX
Private Property?
Space Force?
((([ originalnoise.org ])))
— dave.
A Day In The Life — Ten minutes on Florida's Space Coast, including watching, with a young family, seeing its first manned launch (the space shuttle Discovery), its fiery launch and rapid ascent, streaking across the mostly clear blue, Florida sky, away from the Cape, on its way to the International Space Station, orbiting 300 miles above, outside the atmosphere of Earth.
A reminder of my mother (who is present this day), fifty years earlier, taking me, my sister, and my brother into our front yard in Cocoa, to watch Alan Shepard become the first American to see outer space.
On this launch day (2005), you'll hear Grandma Rose shriek excitedly, before loudly calling out to her young grandson,
"Look at the ball of fire, Josh.
Look at the ball of fire."
The Inlet
"Surfin' USA"
b/ The Beach Boy

— dave.
Sebastian Inlet — The dividing line between Brevard and Indian River Counties, and known as one of the finest surf spots, not only in Florida, but the entire east coast of the United States.
• HWY 50 (OUT & BACK)
— dave.
The third to last Shuttle, after being postponed for days, was dramatic, and left a most beautiful after cloud, a most appropriate "tag" for the entire Shuttle program.
Weeki Wachee
GODS & MONSTERS
"Your Future" b/ Bernard Fowler
— "The Road Through Space & Time" b/ Skot Olsen
FOSSIL FUEL
[ GOD / GAS / GUNS ]
Weeki Wachee
TWO SPRINGS
Florida Swimming Holes
— dave.
"From the Beginning"
FOSSIL FUEL
Houses Replace citrus, after a freeze. St John's Crossing. Crossing I95, Old School east to Titusville/ US1 & HWY50)
VAB
HWY50 — WEEKI WACHEE/VAB SPRING HILL, Sinclair Dinosaur, inland Florida swimming hole, as compared to the Venetian Pool in Coral Gables.
Turpentine, Pines, Plywood and stinky pulp
HWY50
"The Road Through Time And Space"
Enjoy The Ride.
1978
— dave.
Patrick Air Force Base, Picnic Tables, 2nd Light, Touch and Gos, Pineda Causeway shortcut, U2 takeoff, F-16s across the Turnpike, Hawk chasing Eagle, Followed (Targeted) by A-10s. After Pink Floyd, torrential rain at the Tangerine Bowl.
• Daytona Beach (1957) Thunderbirds Intro 
HWY50
THE SPACE COAST
Cape Canaveral/ Cocoa Beach/ Merritt Island/ Indian River
Naked Launch
Florida's Finest Art
Titusville, Fla. (1997)
— dave.
• NAKED LAUNCH
HWY50 (East) VAB
1/2 Mile north on Riverside Drive
State Road 50 (SR 50) runs across the center of the U.S. state of Florida through Orlando, with its termini at SR 55 (US 19) at Weeki Wachee and SR 5 (U.S. Route 1) in Titusville.
SR 50 is signed east–west. Within various counties throughout the state, the highway is signed with various names such as Cortez Boulevard in Hernando County and Colonial Drive in Orange County. The former section includes the concurrency with US 98 between Brooksville and near Ridge Manor. US 98-SR 50 is the only interchange with Interstate 75 in Hernando County.
Several portions of SR 50 east of SR 436 follow the original Cheney Highway, which was named for John Moses Cheney and was the first road to the coast from Orlando. Full travel from Orlando to Titusville on the Old Cheney Highway, however, is not possible due to the demolition of a bridge over the Econlockhatchee River.[2] At the eastern terminus of SR 50, NASA's Vehicle Assembly Building is visible.
State Road 408, also known as the East-West Expressway or Toll Road 408, from its western starting point near Ocoee to its eastern terminus near the University of Central Florida near Bithlo, runs almost directly parallel to SR 50, with most exits on the 408 being within a mile to 2 miles away from SR 50. The East-West Expressway was originally designed to, and still does, relieve traffic congestion on SR 50 during rush hour.
HWY40 (OCALA) National Forest
Through Ocala over the Ocklawaha River and bridge and through the heart of the Ocala National Forest to Silver Springs,  State Road A1A in Ormond Beach. Yankeetown on the Gulf Coast.
Silver Springs
A western extension of SR 40 continues from US 41 in Dunnellon as HWY 40 to the Gulf of Mexico through Marion and Levy Counties north of the Withlacoochee River. County Road 40 is named Follow That Dream Parkway west of US 19/98 after the 1962 Elvis Presley movie that was filmed in Inglis, Yankeetown and the surrounding area. East of US 19-98, the road is known as Port Avenue in Levy County, and Cedar Street, then Pennsylvania Avenue in Dunnellon. Between Dunnellon and Rainbow Lakes Estates, SR 40 serves as a not-so-hidden route along US 41.
Rainbow Springs
"Curse Of The Witches Well"
Cottage on the Rainbow River
Dunellon
— Interior Florida. Clear, Cool, spring-fed river. 
A retreat from the family estate in Belleair.
On the west coast, north of Tampa, where Henry Plant terminated his Railroad, near Clearwater, north of St. Petersburg. THE BELLEVIEW-BILTMORE HOTEL
Henry Plant was Henry Flagler's rival, fellow Railroad baron, and Florida Pioneer, who turned his tracks west, toward Tampa, while Flagler decided to continue south, down Florida's East Coast, with a dreamer's eye on Key West, the land developer's, industrial age, FLORIDA MOON.
De Leon Springs
Blue Spring (Actually Green)
St. Johns River
Orange, Florida
(HWY40)Go West — Ormond Beach, Ocala National Forest, Silver Springs, Crystal River, Yankeetown, Withlacoochee Gulf Preserve, 
Deland (HWY44)
Cassadaga — GEO MAGAZINE (German) PICTURES
Daytona Beach (The World's Most Famous)
Daytona 500
NASCAR (Beach-A1A/Super Speedway
Port Orange
New Smyrna Beach (HWY44) Atlantic Ocean
Cassadaga
Deland
Orange, Florida
BLUE SPRING
ST. JOHNS RIVER
(HWY50) — THE ROAD THROUGH SPACE & TIME
What a Difference a Decade Makes
International Space Station
Galactic Waste Management
Richard Branson
Virgin Atlantic
Elon Musk
SpaceX
Private Property?
Space Force?

— originalnoise.org
SpaceX Cometh 

"Change Is Gonna Come"
The Inaugural Falcon — A look into the Future of space travel, and a  reminder (warning) of how Donald Trump not only didn't make America any greater, he nearly destroyed our effort to boldly go where no man has gone before.
"I'll break your fucking camera,
if you take a picture of me."
Unlike an invitation to a tall glass of sweet tea and watching a countdown on the host family's primitive black and white television set with its aluminum foil-wrapped rabbit ear antenna.
— dave.
Far from the fondest of memories, watching all the "manned launches," starting with Alan Shepard's most exhilarating, 15-minute, up and down ride anyone had ever seen.
From our front yard on the Cocoa mainland, my mother, my sister, my brother, and I watched the yellow flame rise into the clear blue Florida sky, and after it disappeared, we went inside to begin what would be a life-long, Space Coast ritual.
Closing the screen door behind you, and sitting down in the living room, listening to one of the network newsmen, writing (telling) America's history as they saw it.
We, like most, listened to Walter Cronkite, the voice of CBS news, the Truth in America.
Walter Cronkite — an honest man who told us what he saw.
Same Space, Different Time — For the dozen Apollo Astronauts who walked on the Moon, the last spot on earth they touched before their galactic stroll, was Cape Canaveral, Florida.
On this day, nearly 40 years later, the Space Shuttle Discovery sat quietly on the same spot, it's crew waiting anxiously to ride the fountain of fire, away from The Cape, and toward their outer space destination, the International Space Station, orbiting 300 miles overhead.
The deteriorating, corrugated-metal building is Hub's Inn, a Space Coast seafood restaurant and lounge, popular in the 1920s. Indian River lore having it that Hub's was a favorite of Al Capone, to where he and his Miami mob associates sailed their motor yachts, up the Intracoastal Waterway, and bought exclusive time at Hub's Inn, enough time to satisfy their near-insatiable desire for Wine, Women, and Song.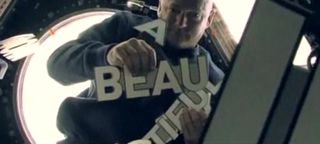 — NASA
A U2 concert in Seattle this week officially sailed "out-of-this-world" when NASA astronaut Mark Kelly made an appearance from space in a pre-recorded message.
On Sunday (June 5) at Quest Field in Seattle, U2 lead singer Bono dedicated the song "Beautiful Day" to Kelly's wife Gabrielle Giffords, a Congresswoman from Arizona who was wounded during a January shooting.
The song holds special significance to Giffords, as she chose it to play as the wakeup song one morning during Kelly's recent trip on the space shuttle Endeavour's final mission.
"Imagine a man looking down on us from 200 miles up," Bono said during the concert, part of U2's U2360° world tour. "Looking down at our beautiful crowded planet… What would he say to us? What is on your mind Commander Kelly?"